MoreMo tanks have been designed to focus on maximum possible simplification of fitting process in vehicles. MoreMo tanks, allowing for simplified installation on vehicles, may be installed in 4 different ways: in a one-point (central screw cap), in two points (2 screws), in four points (4 clamps) or with a fastening ring.

Methods of fitting:
One-point - to install MoreMo tank drilling only one hole in a car body is enough and one cetral connecotr is sufficient to fit the tank properly. This innovation is reducing car body modification to the minimum, positively simplifies and accelerates tank installation and connection of ventilation system. Different lenght of central connector enable to use one-point fitting solution in wide range of vehicles.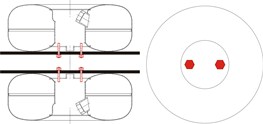 Four-point - MoreMo tanks are available with four holders on the top or/and at the bottom of tank, which are fitted to a car body with the use of bolts. This kind of fitting is the most popular in suspended LPG toroidal tanks - both MoreMo and traditional ones.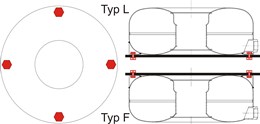 Fitting by a ring - ring is an additional element, which together with tank support enables fitting the MoreMo tank in vehicle, just like traditional tanks.


Ventilation:
Each type of the above mentioned fitting solution performs ventilation function too:

Legend:
1.LPG tank; 2.Central pipe (ventilation and fitting); 3.Protection disc; 4.Central connector(M48x1,5); 5.Ventilation pipe D 50mm; 6. d8 plug; 7.Ventilation pipe D60/D50mm; 8. Sealing ring; 9. M10 screw seat; 10. M10 bolt; 11.Bolt special washer, 12. M10 nut